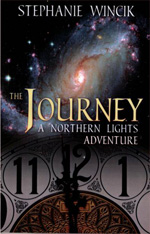 Here's the "Back Cover Copy" that I was asked to write for:
The Journey – A Northern Lights Adventure by Stephanie Wincik
Filled with adventure, intrigue, and romance, this book has all the great stuff that captivating stories are made of.
Through the mystical journey of five young men, you will be propelled into 1862 Virginia–where you will sip tea with President Lincoln, watch a young woman do the unthinkable, and even square off with a runaway rhino. All this (and more) while trying to find your way home to the 21st century.
I highly recommend this book to anyone interested in time travel, the Civil War, mystery, and suspense. The imagery is vivid, the characters are engaging, and the story moves quickly to an ending of surprise with just a dash of destiny thrown in.
Linda Woods, AHealingVoice.net
(Nashville, TN, USA)